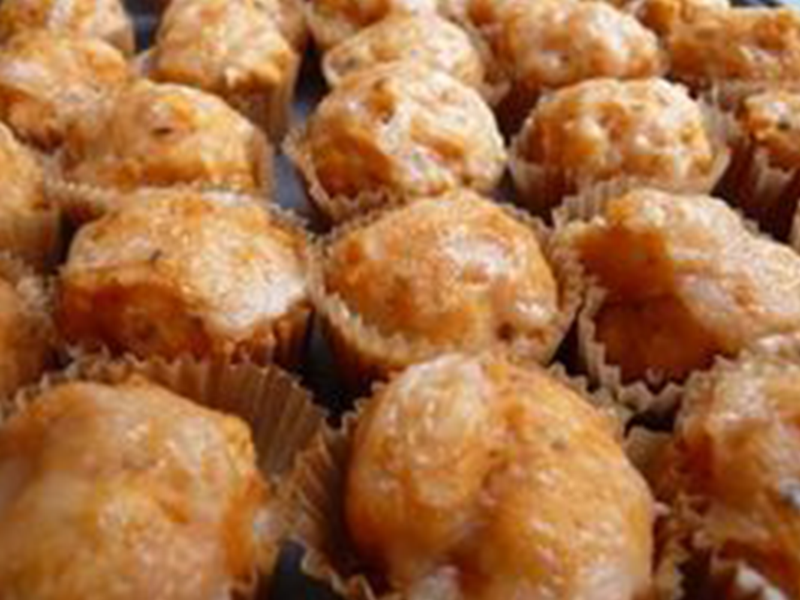 Pizza Muffins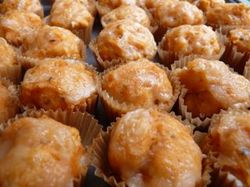 Yields 18 regular muffins or 54 mini-muffins
2 1/2 cups white whole wheat flour
2 teaspoons baking powder
1/2 teaspoon baking soda
1 teaspoon salt
1 teaspoon dried basil
1/2 teaspoon dried oregano
2 1/2 cups grated mozzarella cheese, divided
1 1/2 cups buttermilk
3 tablespoons tomato paste
1 egg, beaten
1 tablespoon honey
Preheat the oven to 350 degrees.  Prepare muffin tins with liners or grease the pans.
Combine the dry ingredients and stir in 1 1/2 cups of grated cheese.
In a separate bowl, whisk together the buttermilk, tomato paste, egg, and honey.
Mix the buttermilk mixture into the flour mixture, and stir just until combined.
Divide into muffin tins, filling each about 3/4 full, and sprinkle remaining cheese over each muffin top.  Bake for 15 minutes, until a tester comes out clean.
Keep at room temperature in an air tight container for up to three days, or freeze and reheat for an on-the-go snack.
Playing around:
Try different cheeses or mince and mix in a favorite pizza topping  – consider pepper jack cheese, cheddar, bacon, pepperoni bits, sun-dried tomatoes, mushrooms, spinach, or anything you enjoy on a pizza!