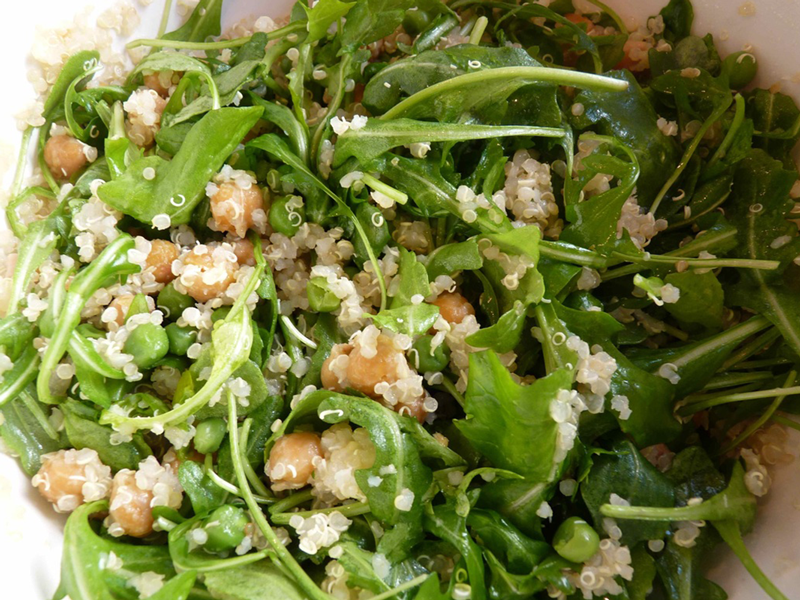 Hearty Salad for Cold Winter Days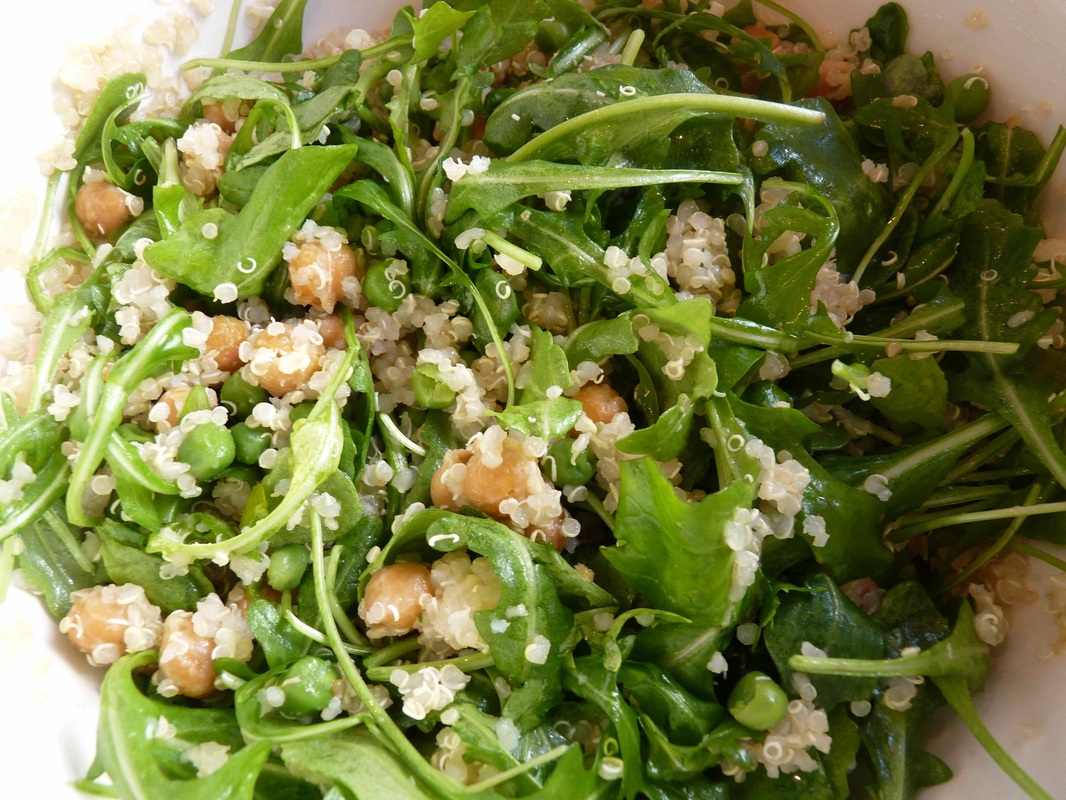 I was lucky enough to escape the brutally cold weather that settled over most of the east coast last week with an invigorating retreat to Florida.  There was lots of time to grow in my yoga practice, deepen friendships, and get to know new friends.  We had a generous helping of treats like beers during ACC basketball and Jake's Bakes all the way from Nashville, but we kept our bodies going with some healthy homemade salads at lunch every day.  I especially love this protein-packed salad of arugula, green peas, and roasted chickpeas.
Arugula Quinoa Salad with Roasted Chickpeas (To serve 4):
1/2 cup quinoa
salt
3/4 cup frozen green peas, rinsed in freshly boiled water
4 big handfuls of arugula leaves (one 5 oz. box works for me)
1 15 oz can chickpeas, drained and rinsed
1 clove garlic, minced
3 Tbsp olive oil
Dressing:
1 Tbsp fresh squeezed lemon juice
1 1/2 Tbsp raw apple cider vinegar
1 teaspoon honey
2 Tbsp olive oil
1 1/2 Tbsp finely chopped fresh chives
freshly cracked black pepper
Heat the oven to 400 degrees.
Place the quinoa in a fine mesh strainer and rinse it thoroughly with water.  Transfer the quinoa to a large pot and cover with plenty of water – as if you were going to cook pasta.  Bring to a boil over high heat and boil until the quinoa is tender, about 15 minutes.  Add the frozen peas to the pot and cook for one minute more.  Drain well.  Transfer to a large mixing bowl.
While the quinoa is cooking, heat the olive oil in a small skillet and add the minced garlic, keeping close watch to remove from the pan from the heat before the garlic browns.  Add the chickpeas, sprinkle with salt and pepper, and place in the oven.  Roast, shaking the pan occasionally,  for 15-20 minutes, or until the chickpeas begin to brown.
Meanwhile, make the dressing by whisking together the lemon juice, vinegar and honey until the honey dissolves completely.  Whisk in the olive oil.  Whisk in the chives and black pepper.
Add the arugula to the cooked quinoa and peas and toss well.  Pour the roasted chickpeas and the oil they cooked in over the mixture, tossing again to combine thoroughly.  Drizzle about 2/3 of the dressing over the salad.  Add more dressing if desired.  Serve immediately, or leave at room temperature for up to four hours.