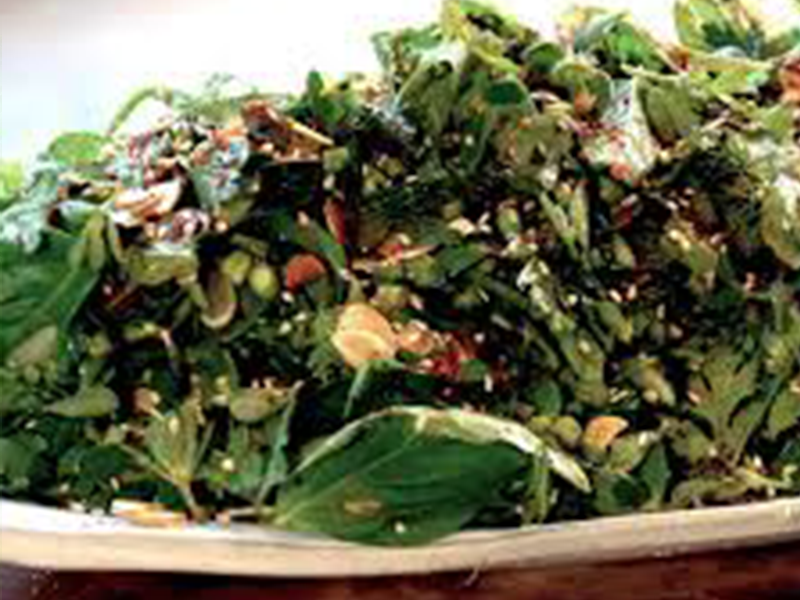 Herb Salad from Ottolenghi
This salad is truly a labor of love.  It's best made when friends or family gather in the kitchen and you have plenty of hands to keep busy.  Once you have spread out your mounds of fresh herbs, picking all these cups of leaves will probably still take a group of four about fifteen minutes – or at least that's been my experience with a few chatty groups so far!
Etti's Herb Salad                                     
From Ottolenghi: The Cookbook by Yotam Ottolenghi & Sami Tamimi            Serves 6
2 cups cilantro leaves
1 ¼ cups Italian parsley leaves
2 cups dill leaves
1 cup tarragon leaves
1 ¼ cups basil leaves
2 cups arugula leaves
2 ½ tablespoons unsalted butter
1 heaping cup whole raw almonds
½ teaspoon coarse sea salt or kosher salt
½ teaspoon freshly ground black pepper
2 tablespoons freshly squeezed lemon juice
1 tablespoon olive oil
Gently immerse the herb leaves in cold water, and be careful not to bruise them.  Drain in a colander, then dry in a salad spinner or spread them out on clean kitchen towels and pat gently to dry.
Heat the butter in a pan, and add the almonds, salt, and pepper.  Sautéeé for 5 to 6 minutes over low to medium heat, until the almonds are golden.  Remove the almonds and transfer to a colander to drain.  Reserve the butter left in the pan, and keep it in a warm place so it does not set.  Once the almonds have cooled, coarsely chop them.
Assemble the salad when it will be served: Place the herbs in a large bowl; add almonds, cooking butter, lemon juice, and olive oil.  Toss gently and season to taste.  Serve immediately.
Why It's Good For You
Fresh herbs deliver loads of chlorophyll to your body, which detoxifies your blood from metals and feeds the good gut bacteria.  The nutrient density of fresh herbs is really remarkable.  Consider this salad a powerhouse multi-vitamin:  Parsley and basil are high in vitamin K, which protects cells from oxidative damage, as well as vitamin A.  Parsley is also packed with iron to boost your energy.  Cilantro may reduce LDL cholesterol in the blood.  It is high in antioxidants such as beta-carotene, and a good source of folate, and fiber, as well as minerals calcium, potassium, manganese, iron, and magnesium.  Like so many herbs, cilantro is also a great source of vitamins K, A, and C.  Dill is an excellent source of vitamins A and C, and it is a good source of folate as well as minerals like copper, potassium, calcium, manganese, iron, and magnesium.  Potassium helps control heart rate and blood pressure.  Arugula's sulfurous glucosinolates protect cells from DNA damage, lower inflammation and protect against UV damage.  Almonds are a great source of good-for-you fat as well as vitamin E.