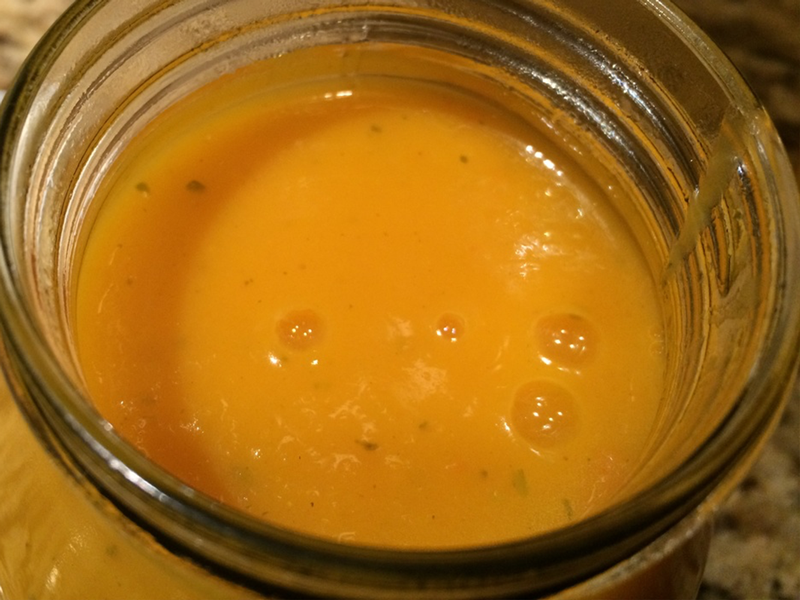 Chipotle Squash Soup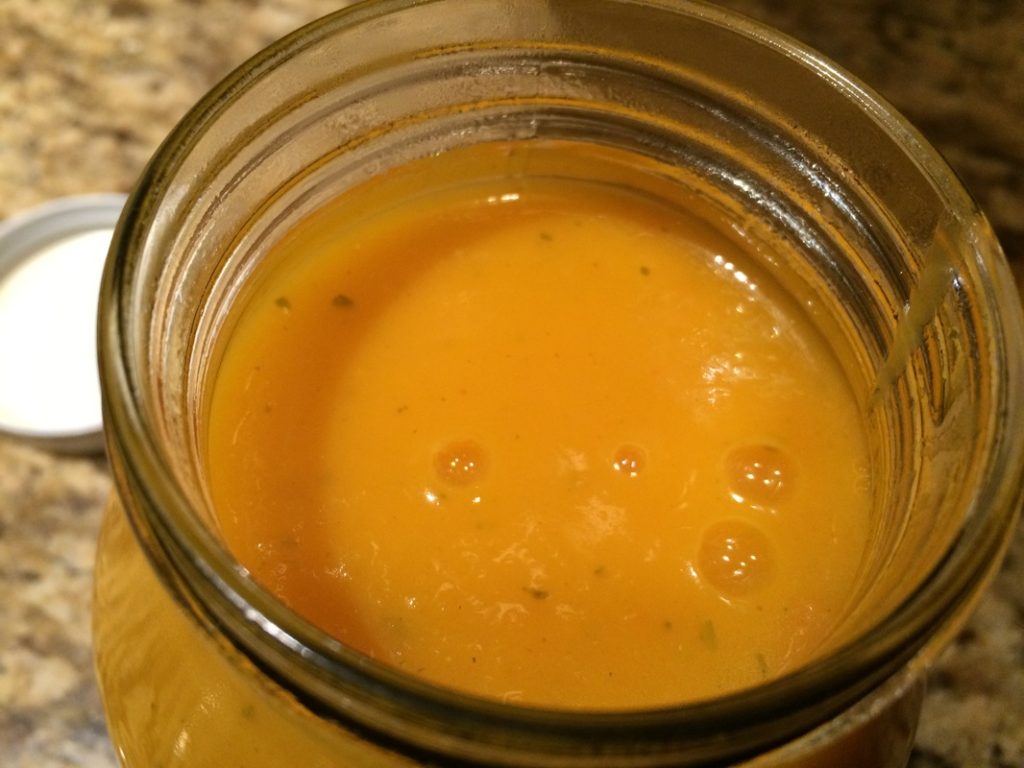 I still haven't received the season's first CSA box with winter squash, so I picked up a couple small butternut squashes at the Wednesday market.  I could easily just have cubed the squash and roasted it for a big green salad, but the weather has been so gloomy, and I thought soup would brighten our spirits.  You can make this soup with any winter squash and use butter, chicken stock, and cream, but I prefer to keep it vegan, using olive oil at the base and omitting any meat or dairy.  A bit of coconut milk at the end would add that hint of creaminess without the dairy.
Chipotle Butternut Squash Soup with Fresh Rosemary (makes almost 3 quarts):
2 small butternut squash, halved and seeds removed
4 tablespoons olive oil, divided
1 large yellow onion, chopped
2 large carrots, chopped
1 red bell pepper, cored, seeded, and chopped
2 garlic cloves, chopped
6 cups vegetable broth
2 chipoltle chiles in adobo sauce, seeded and chopped
2 teaspoons kosher salt
1 teaspoon freshly ground black pepper
2 tablespoons chopped fresh rosemary
Preheat the oven to 400 degrees.  Put the squash, cut side down, on a sheet pan and add add 1 cup of water and 1 tablespoon of oil.  Roast until it is soft to the touch, about 40 minutes, depending on their size.
Meanwhile, heat the remaining 3 tablespoons of olive oil over medium heat in a large pot or Dutch oven.  Add the onion and cook, stirring occasionally, until it is very soft and beginning to brown.  Add the carrots and red pepper and cook about 10 more minutes, until the carrots begin to soften.  Add the garlic and cook for one more minute.  Then add the broth, chipotle chiles, salt, and pepper and bring the soup to a boil over medium-high heat.
While the soup is coming to a boil, scoop the squash flesh from the skins.  Add the squash to the soup, reduce the heat to low and simmer, uncovered, for 30 minutes.
Remove the soup from the heat and add the rosemary.  Puree the soup directly in the pot with an immersion blender, or allow it to cool and puree it in two or three batches in a blender.  Serve warm or at room temperature.