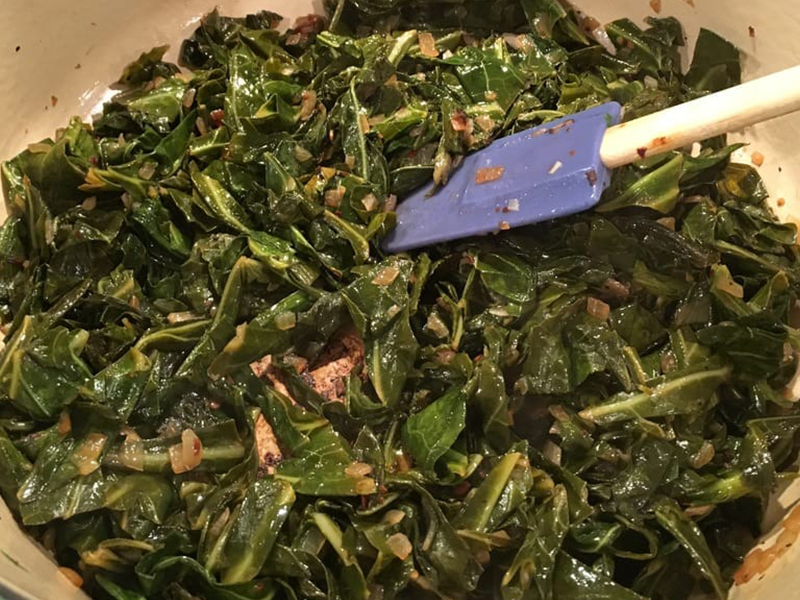 A Southern Tradition for 2017
Starting the New Year with Luck and Money
Here's a regional tradition this transplant to the South is glad to embrace. These are good for you, for sure, and they taste great.  Of course, the traditional dish calls for collard greens, but a couple months ago I discovered Brussels Greens at our local farmers market, and I like them even better because they are a bit more tender and sweet, like very small collard greens would be.  Black eyed peas are usually the only field peas available locally at this time of year, but if  there are others in your area, don't hesitate to use your favorite.
Ring in the new year with a helping of smoky stewed greens and black eyed peas.
Brussels Greens and Black Eyed Peas 
for 6 servings
1/4 cup olive oil
1 yellow onion, minced
2 lbs. Brussels greens (or collards), stemmed and chopped into 1/4 inch ribbons
a big pinch of crushed red pepper flakes
1/2 cup white wine
2 cups cooked black eyed peas
3 tablespoons raw apple cider vinegar
1 teaspoon adobo sauce from chipotle peppers
Warm the oil over medium heat in a Dutch oven or other heavy bottomed pot.  Add the onion and cook until it is soft and beginning to brown. Meanwhile, toast the red pepper flakes in a dry pan for about two minutes over medium heat.   Stir the chopped greens into the onions and add the toasted red pepper and a big pinch of salt. After a couple minutes, add the wine and reduce the heat to medium low.  Stirring occasionally, cook for 30 minutes or longer, depending on your greens, until they are soft.  When the greens are tender, stir in the cooked black-eyed peas and the cider vinegar.  Bring to a simmer and stir in the adobo sauce and salt and pepper to taste.  Simmer 10 minutes.
This recipe is adapted from the James Beard award-winning Ashley Christensen, whose contributions to North Carolina's food renaissance showcase the best of our foods from mountains to coast.