November 21, 2014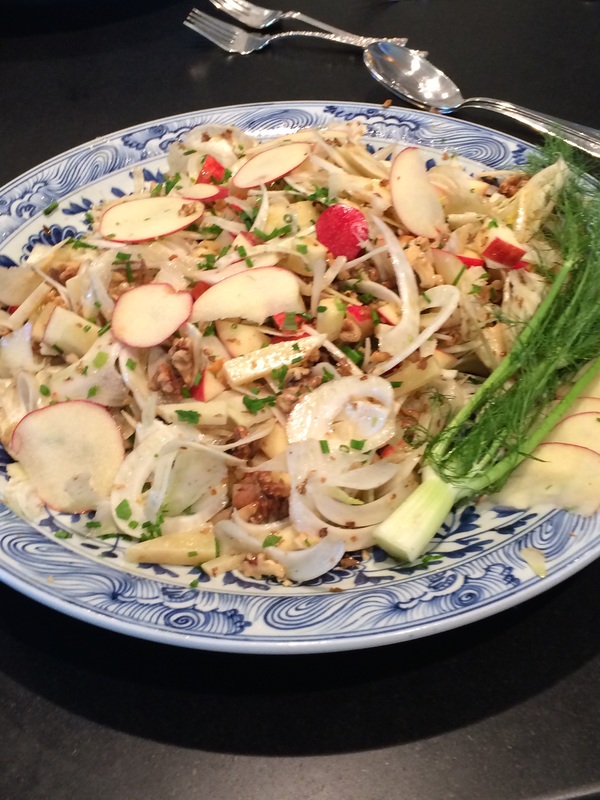 I always crave contrast in the textures of foods at the table.  Shaved fennel, sweet-tart Honeycrisp apples, aged Manchego cheese, toasted walnuts and a touch of honey with a simple vinaigrette make this salad a bright, fresh counterpoint to so many creamy, sweet, and heavily dressed fall dishes.  I served this salad for a presentation this week on healthy menus for the holidays, and the enthusiasm for it reminded why I love to offer something a little unexpected starting with a favorite taste of the season – Honeycrisp apples, in this case.   These flavors complement the traditional Thanksgiving menu so well, and the preparation is really simple.  If you're new to cooking with fennel, note that raw fennel does not have the licorice flavor it takes on when cooked.  It tastes so different when raw that quite a few people the other day remarked they did not know they could like fennel.
makes 4 to 6 servings
3 tablespoons olive oil
1 tablespoon sherry vinegar
Salt
2 ounces Manchego cheese
1/2 fennel bulb
1 Granny Smith or Honeycrisp apple
1/3 cup chopped walnuts, toasted
1 tablespoon chopped chives
1 tablespoon honey
4 small fennel fronds for garnish
1. In a small bowl, whisk together the olive oil and sherry vinegar. Season with one-eighth teaspoon salt, or to taste. Reserve.
2. Cut the Manchego into batons about 2 inches long by one-fourth-inch thick. Slice the fennel lengthwise very thinly, preferably with a mandolin. Place the Manchego and fennel in a large bowl.
3. Core and halve the apple. Cut one-half of the apple into a one-fourth-inch dice. Thinly slice the second half lengthwise, preferably with a mandolin. Add the diced and sliced apple to the bowl, along with the walnuts.
4. Gently toss the salad, adding just enough vinaigrette to lightly coat the ingredients. Divide the salad among four plates. Drizzle each plate with honey.  Evenly sprinkle the chives over each serving, and garnish each plate with one fennel frond. Serve immediately.
November 19, 2014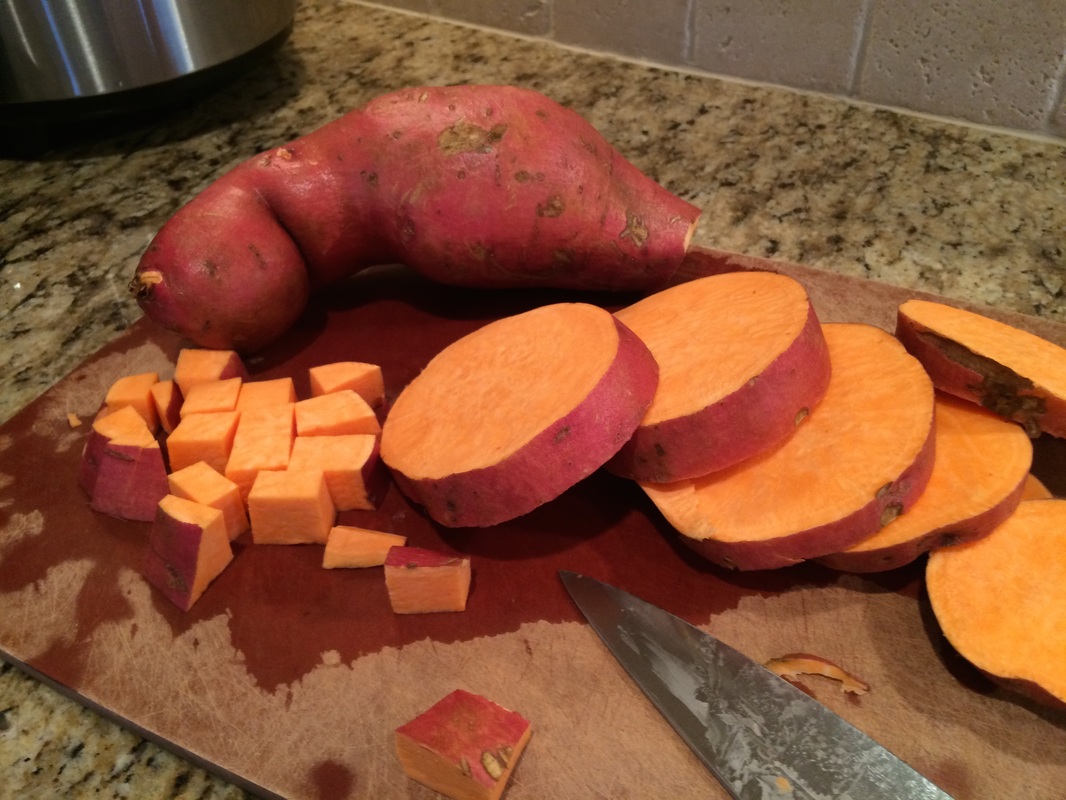 Finally.  After six weeks of cooking so many dinners in the slow cooker, I finally felt ready to experiment and create a recipe intuitively.  My favorite part about this sweet potato soup is that this recipe is just a starting point.  You can certainly serve it without playing around and adding any additional flavors, but sometimes you just want to express yourself. Right?
I love a simple recipe that gives you a versatile dish you can easily tailor to your occasion, the time of year, the company, or what's in your fridge and pantry today.  And for families with young children, this soup makes a healthy serving for little ones, and then you can spice it up in so many different ways!  If you do play around to make it your way, please come back and leave a comment aboutwhat worked for you!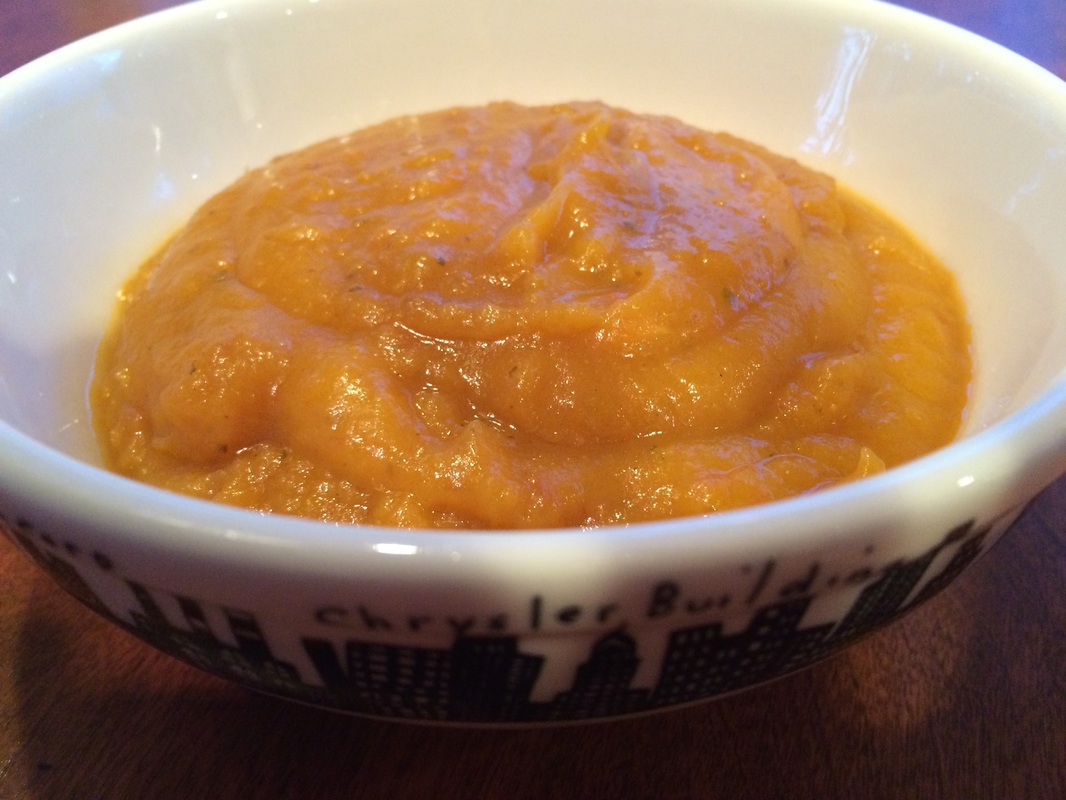 Slow Cooker Sweet Potato Soup – Your Way
makes at least 3 quarts
3 pounds sweet potatoes with the skin on, chopped in 1-inch cubes
1 cup butternut squash, chopped in 1-inch cubes
1 small yellow onion, roughly chopped
2 cloves of garlic, smashed
1 tablespoon fresh grated ginger
1 teaspoon Chinese five-spice powder
6 cups of vegetable stock
Combine all ingredients in your slow cooker and cook on low setting for 8 hours.  Puree with immersion blender right in the slow cooker pot.  Serve as is or make it your way!
Playing Around:
You could replace the Chinese five-spice blend with another flavor – maybe cinnamon or chili powder – some people even like taco seasoning with sweet potatoes.
Try chicken stock instead of vegetable stock – especially if you've roasted a whole chicken in your crock-pot and made the wonderful overnight stock!
Try adding carrots or apples, or both, in addition to, or in place of, the butternut squash.  Really, any root vegetable would work well here.
Try adding some orange zest at the beginning of the cook time, and then add more zest and the juice of your zested orange to the finished soup.  A big drop of maple syrup would be so good with this variation.
Try adding coconut milk or perhaps some more freshly grated ginger when you are ready to puree the soup.
Try it with 2 tablespoons of melted butter and up to 1/2 cup of fresh heavy cream added before you serve.  A dollop of creme fraiche, Greek yogurt, or sour cream might be popular for this palate, too.
Try adding a can of rinsed white beans before you puree the soup.  If you want to add the beans for additional protein, you may also want to add more broth (or water) to thin the soup.
Try adding chunks of from tofu before you puree it.  This is actually a popular healthy "hack" for soup recipes that call for cream; because the tofu is tasteless, adding it to a blended soup will thicken the vegetable base and yield a smooth consistency while also making the soup more filling.  I've done this successfully with butternut squash soup and tomato soup.
You might even enjoy crumbled bacon over the top.
November 4, 2014
These muffins are a perennial favorite in my family.  We always bring a double batch to our Thanksgiving weekend at the beach, and with all the great food there, they are the first snack to be GONE.  We're talking moist and flavorful, cake-like muffins. One is never enough.  They were equally popular in the days when I hosted a high school advising group for breakfast.  It's a good thing for sure when you discover a food packed with nutrition that teen-agers clamor over.  This morning's batch is dedicated to a young man who is now at Holy Cross – he liked these pumpkin muffins so much his mom requested the recipe.  So easy to make, and you probably have all the ingredients on hand except the pumpkin.  Pick up an extra can next time you're at the grocery store.  Make a batch and freeze the muffins when they have cooled to room temperature.  You'll have fresh-baked pumpkin goodness on hand whenever you'd like a little something sweet!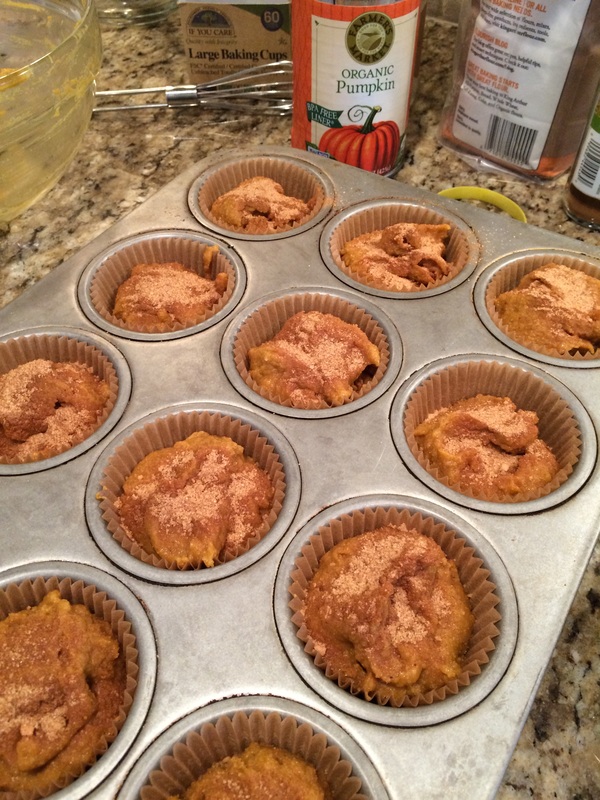 Cinnamon Pumpkin Muffins
Makes 12-15 standard-size muffins
1 1/2 cups white whole wheat flour
1 teaspoon baking powder
1 15-oz can pumpkin
1/3 cup vegetable oil
2 large eggs
1/2 teaspoon cinnamon
1/2 teaspoon nutmeg
1/2 cup granulated sugar
1/2 cup brown sugar
1/2 teaspoon baking soda
1/2 teaspoon salt
For the topping:
1 teaspoon cinnamon
1 tablespoon granulated sugar
Preheat the oven to 350 degrees, and put liners in muffin cups.
Whisk together the flour and baking powder in a small bowl.
In a large bowl, whisk together pumpkin, oil, eggs, cinnamon, nutmeg, sugars, baking soda, and salt.  Beat until smooth and then whisk in the flour mixture until just combined.
Stir together the additional cinnamon and sugar for the topping.
Divide the batter among muffin cups (each should be about three-fourths full), and then sprinkle tops with cinnamon-sugar mixture.  Bake until puffed and golden brown and a tester inserted into the center of a muffin comes out clean, about 20 minutes.
Cool in the pan on a rack for 5 minutes, and then transfer the muffins from pan to rack and cool to room temperature.