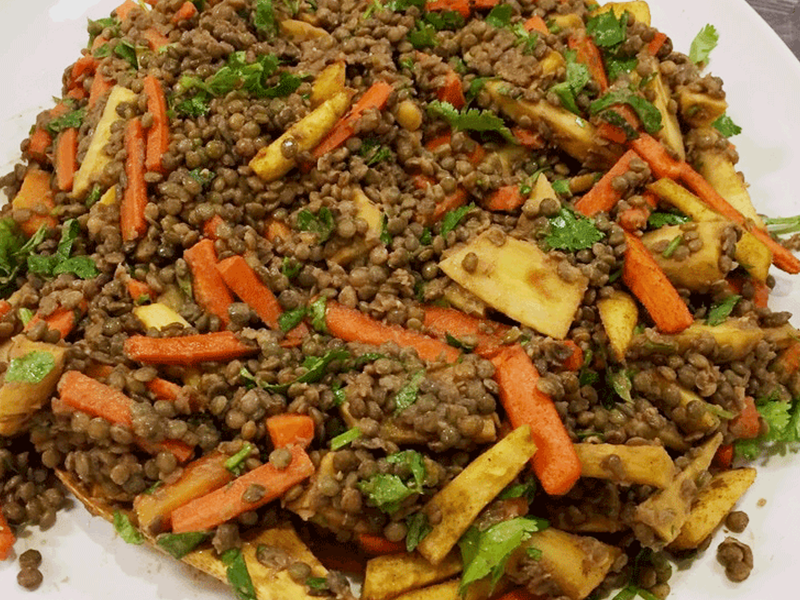 Warm Lentil Winter Salad
It's easy to forget a root vegetable can be packed with flavor.  The bags of organic carrots at the supermarket don't offer much big taste.  But if you can get your hands on the real thing that grew in the ground near your home, well, that's a totally different experience. There's a new  farmer from Hillsborough at my local farmers market, and the carrots she is selling are out of this world  – juicy, crunchy, and so sweet.  Now I'm hoping I can keep getting these carrots until the spring vegetables arrive in a couple months.
This warm lentil salad with carrots and parsnips concentrates the flavor of the vegetables whether you have access to fresh local ones or need to rely on grocery store produce.  There's a pretty substantial spice rub on the roasted vegetables, but the lemon at the end is the most prominent seasoning.  It's a hearty vegetarian main course, and it would also work well as a side for fish, chicken, or pork.
Warm Lentil and Root Vegetable Salad with Coconut Tzatziki                 
adapted from Food & Wine serves 4-6
1  cup French lentils
sea salt
1 lbs. carrots, cut on a bias into 2-inch pieces
1 lbs.  parsnips, halved lengthwise and cut into 2-inch pieces
2 teaspoons ground cumin
2 teaspoons ground coriander
½ teaspoon ancho chile powder
½ cup plus 2 tablespoons extra-virgin olive oil
1/3 cup fresh lemon juice (about 2 juicy lemons)
¾ cup chopped mint, plus torn leaves for garnish
¾ cup chopped cilantro, plus leaves for garnish
Tzatziki
1 cup coconut milk or cashew yogurt (non-dairy brands such as So Delicious or Forager)
¼ cup finely diced seeded cucumber
1 tablespoon extra-virgin olive oil
1 tablespoon fresh lemon juice
1 teaspoon finely chopped dill
1 teaspoon finely chopped chives
1 garlic clove, minced or grated
sea salt
freshly ground black pepper
In a large saucepan, cover the lentils with an inch or two of water and bring to a boil.  Reduce the heat to simmer and cook uncovered for 20 minutes. Drain, sprinkle with salt, and set aside in a large shallow bowl to cool.
Meanwhile, preheat the oven to 400 degrees.  On a large sheet pan toss the carrots and parsnips together with the cumin, coriander, and ancho chile powder.  Drizzle with ¼ cup olive oil and sprinkle with salt and pepper. Roast about 25 minutes, until vegetables are beginning to brown.
Add the roasted vegetables to the lentils and toss with lemon juice and ¼ cup plus 2 tablespoons olive oil.  Fold in the mint and cilantro.  Season with salt and pepper.
To make the tzatziki, combine all the ingredients in a small bowl and serve alongside the warm salad.