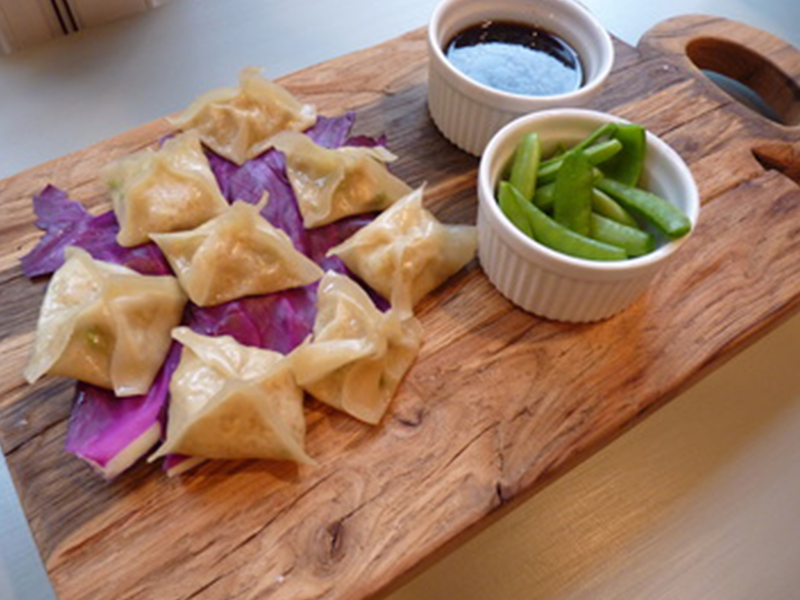 Veggie Dumplings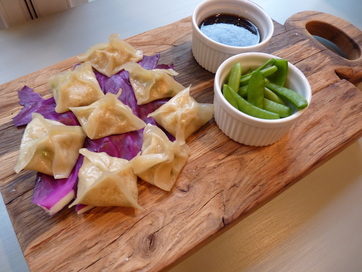 We don't typically have dumplings at home, but I had a chance this afternoon to cook with a six-year old, and I had a hunch she would enjoy this recipe.  There is a lot for little hands to do here, and the assembly is all together FUN!  It was a big hit with her, for sure.  A few hours later,  the dumplings passed the taste test with our boys, ages 15 and 10, too. So that's an all-around winner at our house! And better still, the recipe makes a pretty big batch, so I have half in the freezer for a protein-packed snack another day.
Veggie Dumplings from It's All Good  (makes about 30)
1/2 small onion, chopped
1 garlic clove
1 1/2 cups cabbage, roughly chopped
1/2 cup firm tofu, crumbled
1/2 cup frozen peas
1/2 cup cooked quinoa
1 tablespoon soy sauce
1/2 teaspoon toasted sesame oil
square dumpling or wonton wrappers (I found these in the produce section at the grocery store)
Combine onion, garlic, and cabbage in food processor until finely chopped.  Heat 2 tablespoons canola oil over medium high heat in a large pan and cook the cabbage mixture with a pinch of salt for about 5 minutes, until softened.  Add the tofu, peas and quinoa and cook 2 or 3 minutes until the peas are soft.  Set aside. Off the heat, mix in the soy sauce and sesame oil.  Let the mixture cool to room temperature.
Lay a few rows of your dumpling wrappers on a clean, dry counter and put a tablespoon of the filling mixture in the center of each square.  Dip your index finger in water and use your fingertip to moisten the edges of each wrapper.  Bring the four corners together to form a pyramid or fold in half on the diagonal to make a triangle, but either way make sure you press all the edges to make a tight seal.
You could steam these, but I prepared mine "Chinese restaurant style" by heating just enough canola oil to coat the bottom of a hot pan and cooking the dumplings for 2 minutes before adding 1/4 cup of water to the pan and covering it, allowing another 2 minutes until the wrappers were totally soft.
We enjoyed them with a dipping sauce of soy sauce, water, lemon juice and toasted sesame oil.  Just mix together:
1 1/2 tablespoons soy sauce
1 tablespoon water
1/2 tablespoon lemon juice
1/2 teaspoon toasted sesame oil
Delicious.  Fun to make together.  So nutritious.