Think Outside the Box…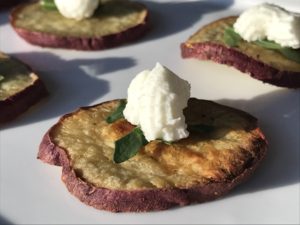 Think Outside the Box … of Crackers
Sweet Potato Toast 
Here's a great healthy food swap that's oh so versatile.  Use a round of toasted sweet potato in place of a cracker or bread for an hors d'oeuvres or even breakfast.  It's Whole 30 compliant, and it's a neutral start you can adapt for lots of different palates.  Make it savory or sweet… the possibilities are pretty much endless! 
Preheat the oven to 450 degrees or use a toaster on the highest setting if you are preparing one or two large slices.  Scrub the sweet potatoes and leave their skin on.  Any variety of sweet potato will work.  Slice them evenly to ¼" thickness.  I slice them crosswise if I'm preparing an hors d'oeuvres, as pictured here, and lengthwise if I'm using them for a larger gluten-free toast.  Lay them flat on a baking sheet lined with parchment paper or place them directly on the racks of your toaster.  Bake them for up to 20 minutes, flipping over about halfway through cooking, until the slices are beginning to brown.  
For a light savory hors d'oeuvres with a distinctive taste, I paired Japanese sweet potato toasts with a bit of arugula and some Goat Lady Dairy Smoky Mountain chevre.  
Try it any other way you can think of or check out the nearly 7,000 posts at #sweetpotatotoast.
PLAYING AROUND: 
Toasted Sweet Potato topped with sweet or savory flavors
Almond butter, banana slices, chia seeds, and a sprinkle of cinnamon

Kite Hill non-dairy cream cheese and fresh blueberries

Good ole' PB&J

Avocado and freshly ground black pepper

Cream cheese, smoked salmon, tomato, and chives

Goat Lady Dairy goat cheese and arugula or rosemary

Bacon, egg, and avocado

Beet Hummus and chives