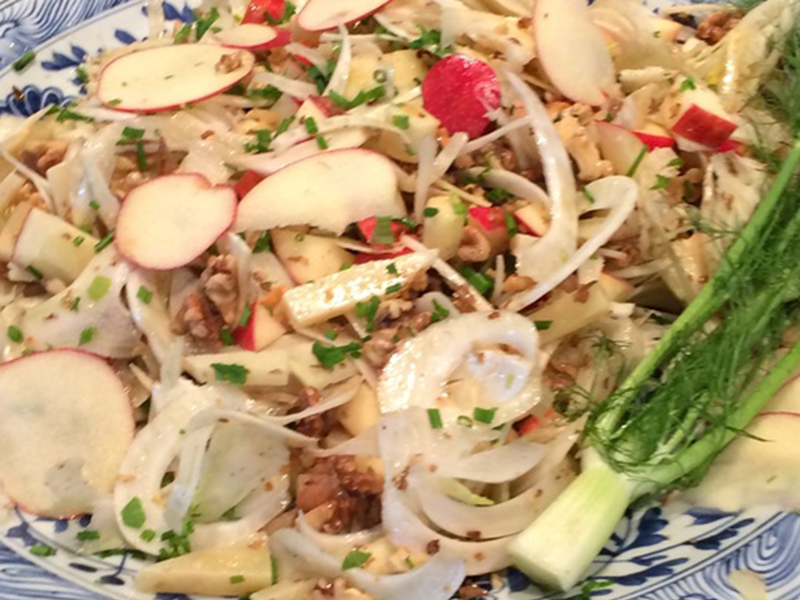 Shaved Fennel with Apple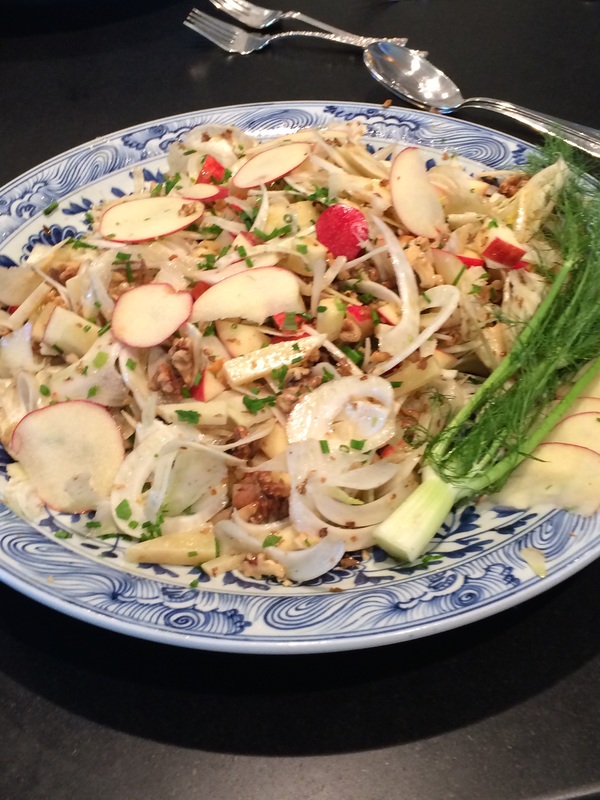 I always crave contrast in the textures of foods at the table.  Shaved fennel, sweet-tart Honeycrisp apples, aged Manchego cheese, toasted walnuts and a touch of honey with a simple vinaigrette make this salad a bright, fresh counterpoint to so many creamy, sweet, and heavily dressed fall dishes.  I served this salad for a presentation this week on healthy menus for the holidays, and the enthusiasm for it reminded why I love to offer something a little unexpected starting with a favorite taste of the season – Honeycrisp apples, in this case.   These flavors complement the traditional Thanksgiving menu so well, and the preparation is really simple.  If you're new to cooking with fennel, note that raw fennel does not have the licorice flavor it takes on when cooked.  It tastes so different when raw that quite a few people the other day remarked they did not know they could like fennel.
Makes 4 to 6 servings:
3 tablespoons olive oil
1 tablespoon sherry vinegar
Salt
2 ounces Manchego cheese
1/2 fennel bulb
1 Granny Smith or Honeycrisp apple
1/3 cup chopped walnuts, toasted
1 tablespoon chopped chives
1 tablespoon honey
4 small fennel fronds for garnish
1. In a small bowl, whisk together the olive oil and sherry vinegar. Season with one-eighth teaspoon salt, or to taste. Reserve.
2. Cut the Manchego into batons about 2 inches long by one-fourth-inch thick. Slice the fennel lengthwise very thinly, preferably with a mandolin. Place the Manchego and fennel in a large bowl.
3. Core and halve the apple. Cut one-half of the apple into a one-fourth-inch dice. Thinly slice the second half lengthwise, preferably with a mandolin. Add the diced and sliced apple to the bowl, along with the walnuts.
4. Gently toss the salad, adding just enough vinaigrette to lightly coat the ingredients. Divide the salad among four plates. Drizzle each plate with honey.  Evenly sprinkle the chives over each serving, and garnish each plate with one fennel frond. Serve immediately.