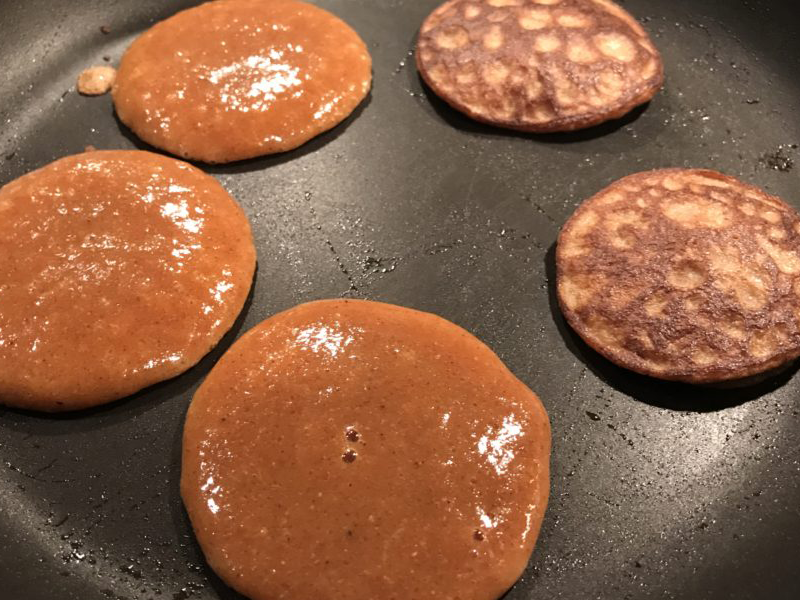 Pumpkin Spice Pancakes
By mid-September we've all had plenty of chance to see the annual return of pumpkin-spice buzz, from flavored oatmeal and lattes to custards, Oreos, and even (!) Pringles potato chips.  Pick your pumpkin with care!  While real pumpkin is plenty nutritious and a food worth eating, many processed pumpkin-flavored snacks and sweets are full of non-food ingredients and mainly empty calories.
I shared some seasonal favorites with a local club this morning, featuring dishes with apple, pumpkin, and sweet potato.  I'm so grateful to those ladies for their enthusiasm, and I'm happy to share the pumpkin pancakes they sampled.  These are gluten-free and grain free; they make a familiar breakfast or brunch food, and they would also work well served at room temperature with a topping of your choice for an hors d'oeuvres.    Happy fall y'all!
Paleo Pumpkin Pancakes (adapted from Practical Paleo)
4 eggs
½ cup pumpkin (from a can of organic pumpkin)
1 teaspoon vanilla extract
2 tablespoons maple syrup
1 ½ teaspoons cinnamon
½ teaspoon nutmeg
¼ teaspoon baking soda
2 tablespoons melted ghee or butter
Whisk together the eggs, pumpkin, vanilla, and maple syrup.  Combine the cinnamon, nutmeg, and baking soda and stir into the pumpkin mixture until well distributed.  Fold in melted butter.
Prepare a griddle over medium heat.  When a drop of water sizzles on the surface begin making pancakes.  I prefer bite-sized pancakes made from 1 tablespoon batter, but, of course, you can make any size you choose.  When you begin to see the surface bubble, your pancake is ready to turn over for about a minute on the second side.