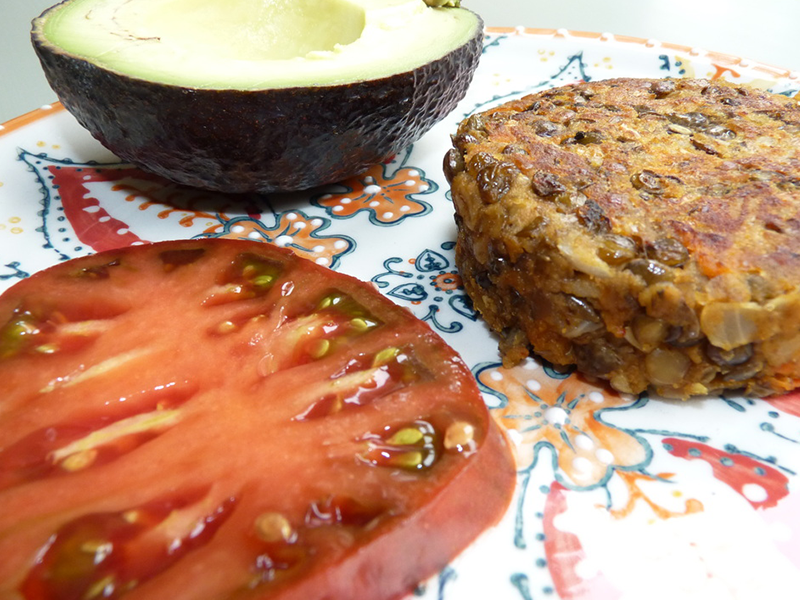 Lentil Veggie Burgers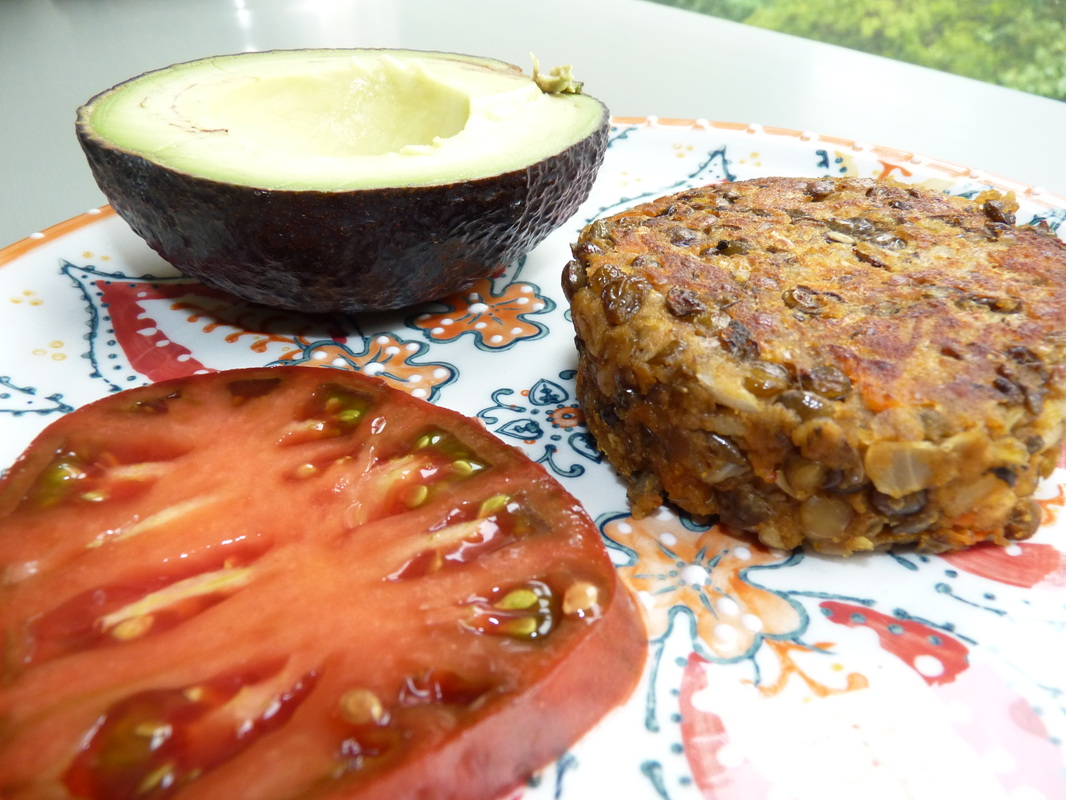 There's a local restaurant here that serves black bean cakes I love year round, and these lentil veggie burgers are another great version of the same idea.  They take more effort than black bean cakes, but if you plan ahead to prep the ingredients, it's a simple assembly with an hour of inactive time before you finish cooking the patties.
Lentil Veggie Burgers (makes 6 large patties or 12 sliders)
Make ahead:
Cook 1/2 cup of dried French lentils according to package directions (about 20 minutes).  Cook 1/3 cup pearled barley according to directions (about 40 minutes).
1 small yellow onion, diced
1 small carrot, small-diced or grated
1 clove garlic, minced
1 tablespoon sunflower seeds
2 tablespoons tomato paste
1 1/2 teaspoons ground cumin
3/4 teaspoons dried oregano
1/2 teaspoon chili powder
cooked lentils (see above)
cooked barley (see above)
1/2 cup whole wheat panko or breadcrumbs
2 tablespoons finely chopped fresh parsley
2 eggs, beaten
Heat 2 tablespoons of olive oil over medium heat in a large skillet.  Saute the onion and carrot for about 10 minutes, until soft and beginning to brown.
Meanwhile, set aside 1/3 cup of the cooked lentils.  In a medium size bowl, smash the remaining lentils with a fork or potato masher.  Add the whole lentils to the smashed lentils.
When the onions are beginning to brown, add the garlic and sunflower seeds and cook for 1 minute.  Add the tomato paste, cumin, oregano, chili powder, and 1 teaspoon of salt, and cook for 1 minute longer.
Add the cooked onion mixture to the lentils, stirring just to combine.  Add the barley, panko, parsley, and eggs and stir well.  Cover and refrigerate for 1 hour or longer.
Divide the mixture, making patties of the size you prefer – cherry tomato size for toothpick hors'douevres, small handfuls for sliders or cakes, or large handfuls for burgers.  You can refrigerate these overnight in an airtight container, or proceed to cook them in the skillet.  Heat 1 1/2 tablespoons olive oil in the skillet and cook the patties on each side until lightly browned (2-4 minutes, depending on size).
Serve with avocado, tomato, tangy chipotle dressing, or salsa of your choice.  These are also good in a pita or between thin slices of bread.  A friend likes to sandwich lettuce, avocado, and tomato between two thin patties and savor these burger style without the bun!