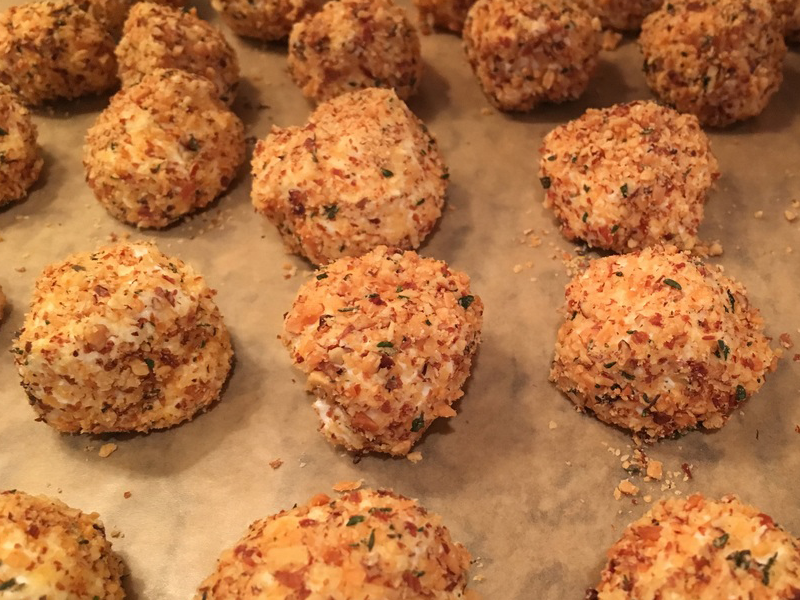 Hint of Lemon Mini Cheese Balls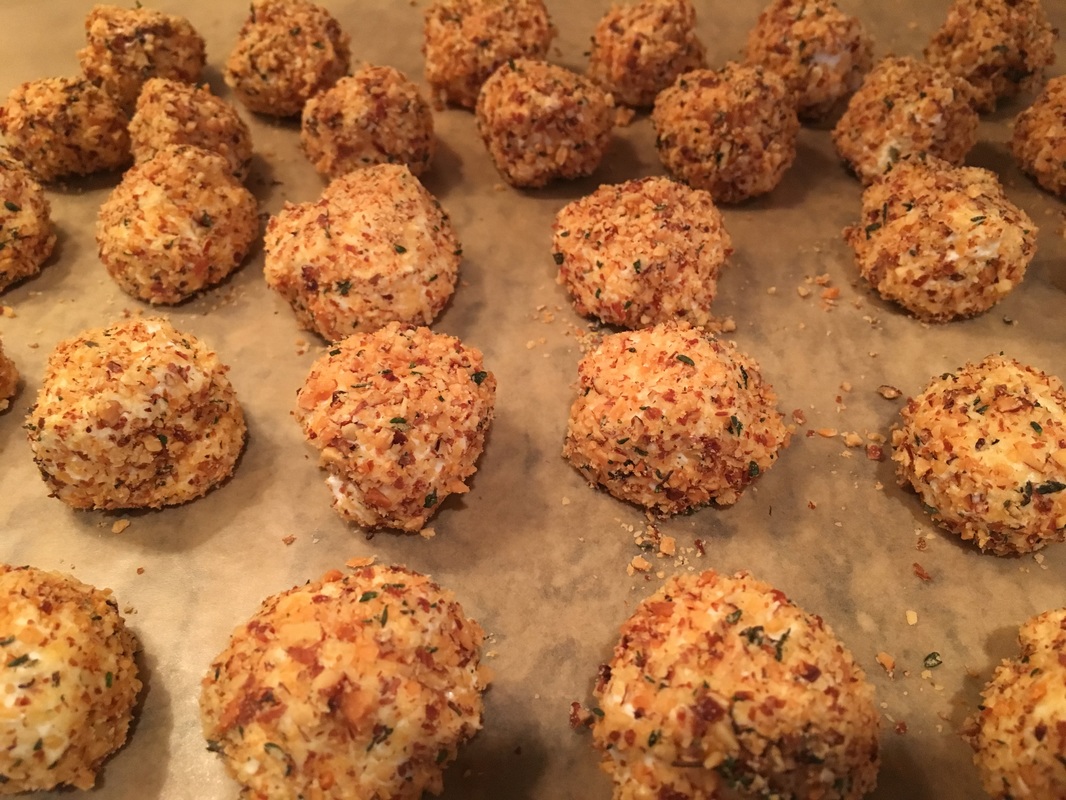 Lighten up old favorites with whole grains, natural sweeteners, or more healthy fats.  It's easy to makeover baked goods, rice, dips, and dressings.  Try whole grain rice instead of white rice, white whole wheat flour instead of all-purpose flour, and plain Greek yogurt instead of sour cream.  The cheese balls pictured here swapped out cheddar and cream cheese for two lighter alternatives. I think "Hint of Lemon Mini Cheese Balls" is a terrible name, but the people who loved these most all remarked on the trace of lemon, and they really are just little bites of cheese.  I welcome comments offering a better name! These make a great swap for a traditional cream cheese and cheddar cheese ball, and they deliver great taste for about half the fat of a traditional cheese ball.  Goat cheese, like almond cream cheese, is a healthier choice than the traditional counterpart.
Mini Cheese Balls
makes about 40 bite-sized servings
8 ounces Goat Lady chèevre or other mild goat cheese
8 ounces Kite Hill plain almond milk cream cheese
2 teaspoons honey
1 teaspoon finely grated lemon zest
1/2 cup roasted unsalted almonds
1 teaspoon minced fresh thyme
Beat the cheeses, honey, and lemon zest together on medium speed for about 2 minutes, or until smooth. Freeze for 20 minutes.Meanwhile, blitz the almonds and thyme in a food processor or blender until finely ground. Place the herbed nut mixture in a shallow dish. Divide the cheese mixture into small portions, about 2 teaspoons each, and roll each into a small sphere. Freeze 10 minutes. Roll each cheese ball in the nut mixture. Serve right away or cover and refrigerate for up to five days.  Note that the coating will lose its crunch over time.
These make a great hors d'oeuvres on their own or with rounds of toasted baguette, and they are a wonderful addition to so many salads.  Try them on a salad with roasted beets or with figs and caramelized onions.