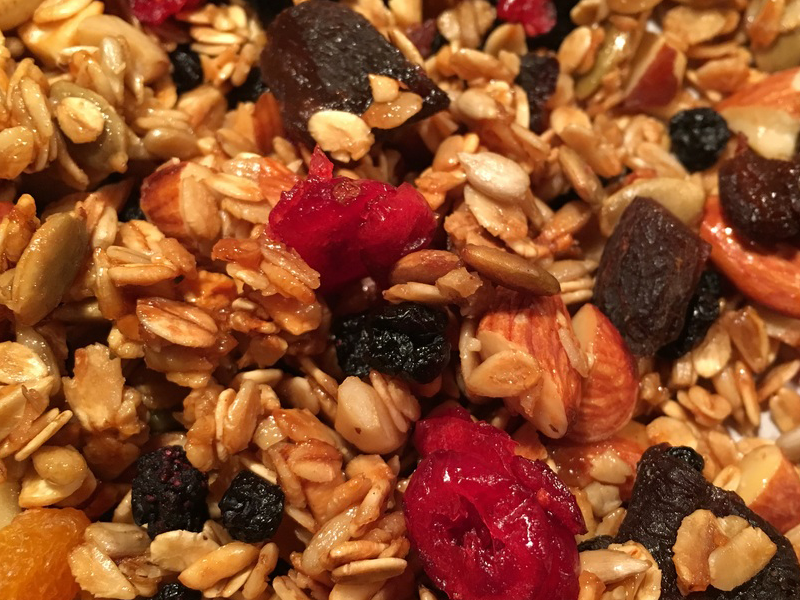 Granola for a Special Day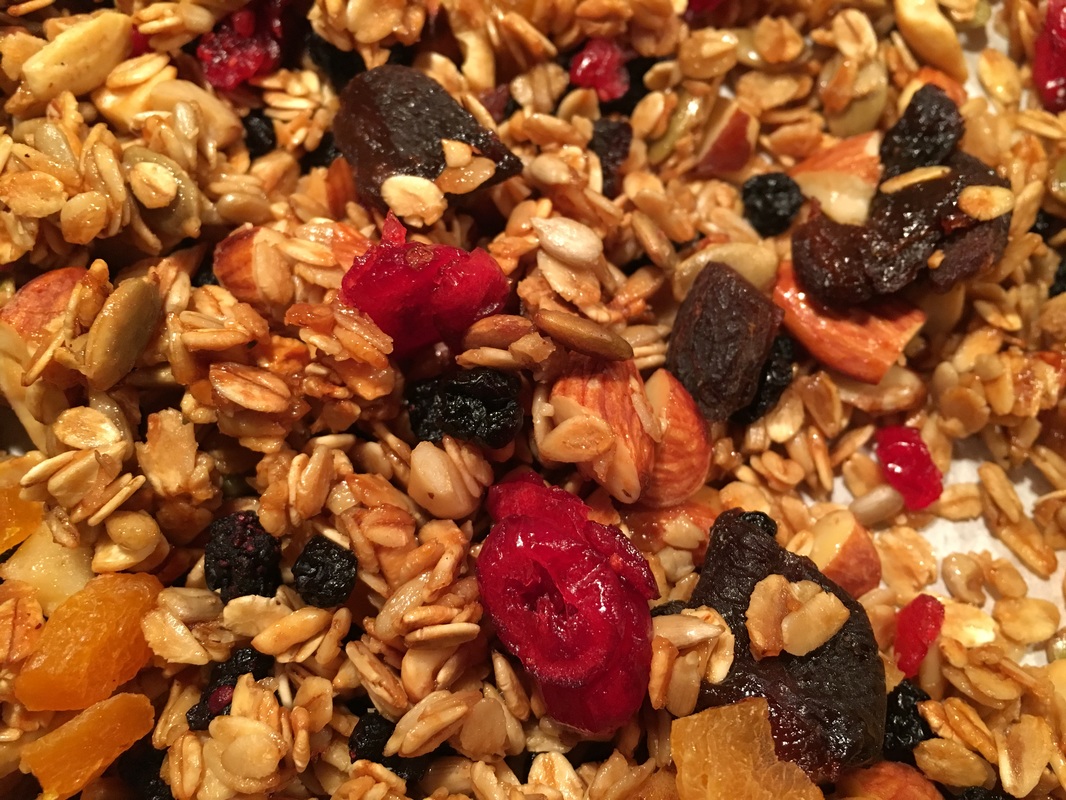 There is always homemade granola in my pantry, and as much as I love it, that everyday granola is not much like this one.  Here is a granola worthy of birthday mornings, special weekend get-aways, and gift-giving.  I've adapted this recipe from Ottolenghi: The Cookbook, and you can make it your own by changing the nuts, seeds, and fruits you use.
Granola for a Special Day
½ cup raw almonds
½ cup pecans
½ cup cashews
3 cups thick rolled oats
½ cup raw pumpkin seeds
½ cup raw sunflower seeds
¼ cup sesame seeds
¼ cup water
¼ teaspoon salt
2 tablespoons canola oil
2 tablespoons sunflower oil
½ cup maple syrup
½ cup honey
1 cup chopped dried apricots
½ cup dried cherries
½ cup dried blueberries
Preheat the oven to 275 degrees.  Coarsely chop all the nuts and combine them in a large bowl with the oats, and seeds.  In a small saucepan over low heat, gently warm the water, salt, oil, syrup and honey.  When it is warm, pour it over the nut mixture and stir until well combined.
Line a large baking sheet with parchment paper and spread the granola over it evenly in a thin layer.  If it is thicker than ¼ inch, spread it out on two baking sheets.
Bake the granola for 40 minutes, turning it and spreading it back out in a thin layer every 15 minutes.  Set aside to cool on a rack.
Five minutes after you remove it from the oven, stir in the dried fruit.  Leave to cool in the pan.  Store in an airtight container.
Enjoy this granola with your favorite yogurt or milk, or as a topping for a frozen dessert.