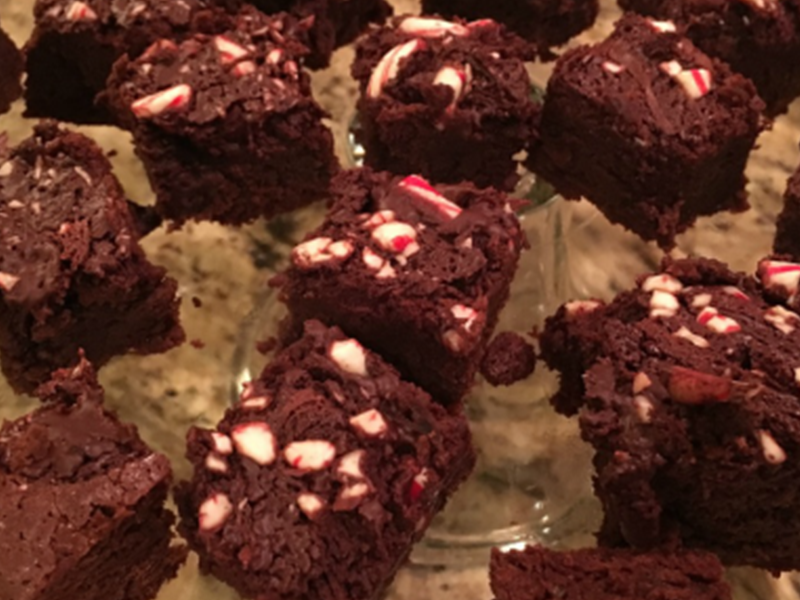 Chocolate Peppermint Brownie Bites
Healthy Holiday Tip #3: Serve your favorite sweets in smaller portions. When there's a big spread, a one-inch square of fudge or brownie is more than enough.  Remember most people would rather sample a bit of everything than commit to larger portions.  Serving bite-sized sweets and hors d'oeuvres sends a subtle signal about reasonable portions.  ​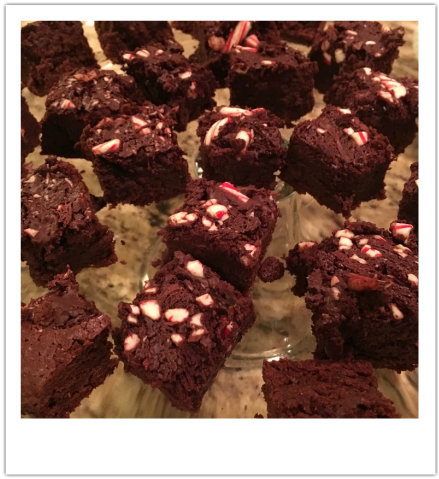 Chocolate-Peppermint Brownies (from Food&Wine December 2015)
2 sticks unsalted butter, cut into small pieces, plus more for greasing
1 pound bittersweet chocolate, chopped
2 teaspoons pure peppermint extract
4 large eggs
1 3/4 cups packed light brown sugar
3/4 cup all-purpose flour
1 teaspoon fine sea salt
4 candy canes, crushed (1/3 cup)
Preheat the oven to 350°. Butter a 9-by-13-inch baking pan and line with parchment paper; allow 2 inches of 
overhang on the long sides.
In a heatproof bowl, combine two-thirds of the chopped chocolate with the 2 sticks of butter. Set the bowl over a pot of simmering water and stir until melted. Scrape the chocolate into another bowl and let cool slightly. Add the remaining chopped chocolate and the peppermint extract to the heatproof bowl and melt over the simmering water; remove from the heat and let cool slightly.
In a medium bowl, whisk 
the eggs with the brown sugar 
until combined. Whisk in the chocolate-butter mixture until glossy and thick. Sprinkle the flour and salt into the bowl and stir until just incorporated. Spread the brownie batter in the prepared baking pan. 
Dollop the peppermint chocolate onto the brownie batter and swirl in with a table knife.
Bake the brownies in the 
center of the oven for 15 minutes. Sprinkle the crushed candy canes on top and bake for 10 to 15 minutes longer, 
until the edges are set and a toothpick inserted in the center comes out with a few moist crumbs. Let the brownies cool in the pan for at least 2 hours. Cut into squares and serve.
​
This recipe appeared in Food & Wine December 2015.  It comes from Clarie Ptak, the California native who opened London's hugely popular Violet Bakery.  If you're looking for a new baking cookbook, the American edition of The Violet Bakery Cookbook could just be it.