March 10, 2017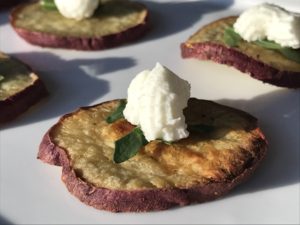 Think Outside the Box … of Crackers
Sweet Potato Toast 
Here's a great healthy food swap that's oh so versatile.  Use a round of toasted sweet potato in place of a cracker or bread for an hors d'oeuvres or even breakfast.  It's Whole 30 compliant, and it's a neutral start you can adapt for lots of different palates.  Make it savory or sweet… the possibilities are pretty much endless! 
Preheat the oven to 450 degrees or use a toaster on the highest setting if you are preparing one or two large slices.  Scrub the sweet potatoes and leave their skin on.  Any variety of sweet potato will work.  Slice them evenly to ¼" thickness.  I slice them crosswise if I'm preparing an hors d'oeuvres, as pictured here, and lengthwise if I'm using them for a larger gluten-free toast.  Lay them flat on a baking sheet lined with parchment paper or place them directly on the racks of your toaster.  Bake them for up to 20 minutes, flipping over about halfway through cooking, until the slices are beginning to brown.  
For a light savory hors d'oeuvres with a distinctive taste, I paired Japanese sweet potato toasts with a bit of arugula and some Goat Lady Dairy Smoky Mountain chevre.  
Try it any other way you can think of or check out the nearly 7,000 posts at #sweetpotatotoast.
PLAYING AROUND: 
Toasted Sweet Potato topped with sweet or savory flavors
Almond butter, banana slices, chia seeds, and a sprinkle of cinnamon

Kite Hill non-dairy cream cheese and fresh blueberries

Good ole' PB&J

Avocado and freshly ground black pepper

Cream cheese, smoked salmon, tomato, and chives

Goat Lady Dairy goat cheese and arugula or rosemary

Bacon, egg, and avocado

Beet Hummus and chives
November 19, 2014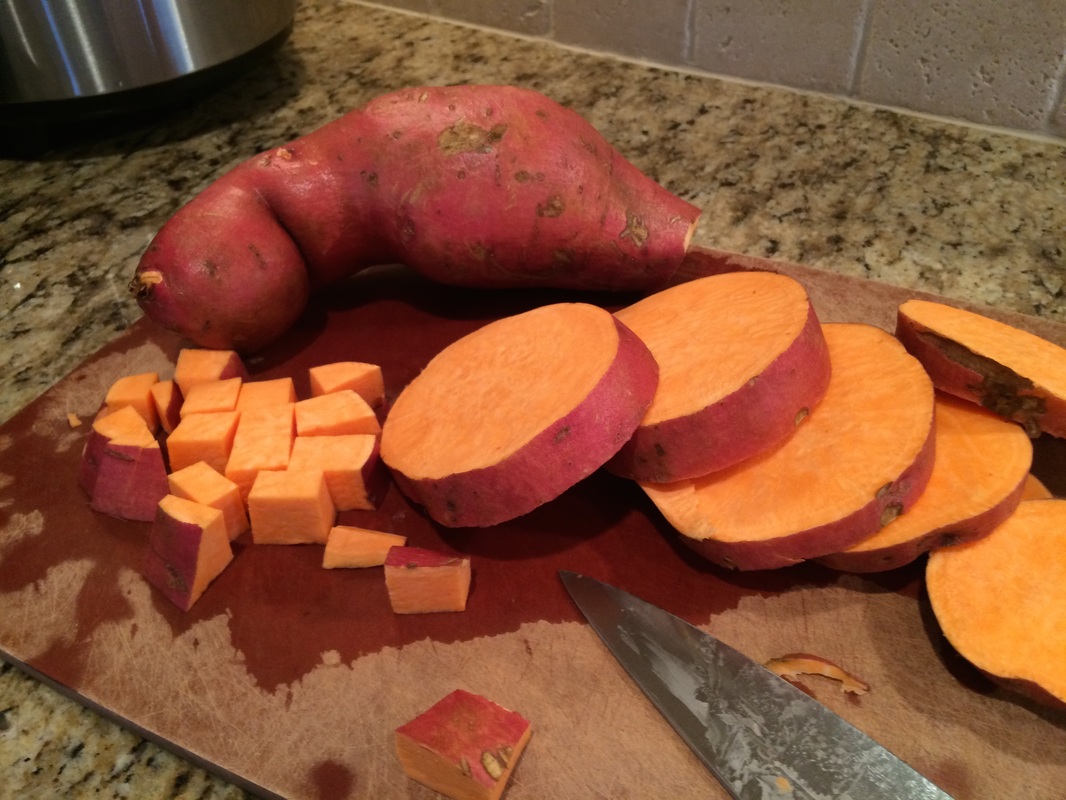 Finally.  After six weeks of cooking so many dinners in the slow cooker, I finally felt ready to experiment and create a recipe intuitively.  My favorite part about this sweet potato soup is that this recipe is just a starting point.  You can certainly serve it without playing around and adding any additional flavors, but sometimes you just want to express yourself. Right?
I love a simple recipe that gives you a versatile dish you can easily tailor to your occasion, the time of year, the company, or what's in your fridge and pantry today.  And for families with young children, this soup makes a healthy serving for little ones, and then you can spice it up in so many different ways!  If you do play around to make it your way, please come back and leave a comment aboutwhat worked for you!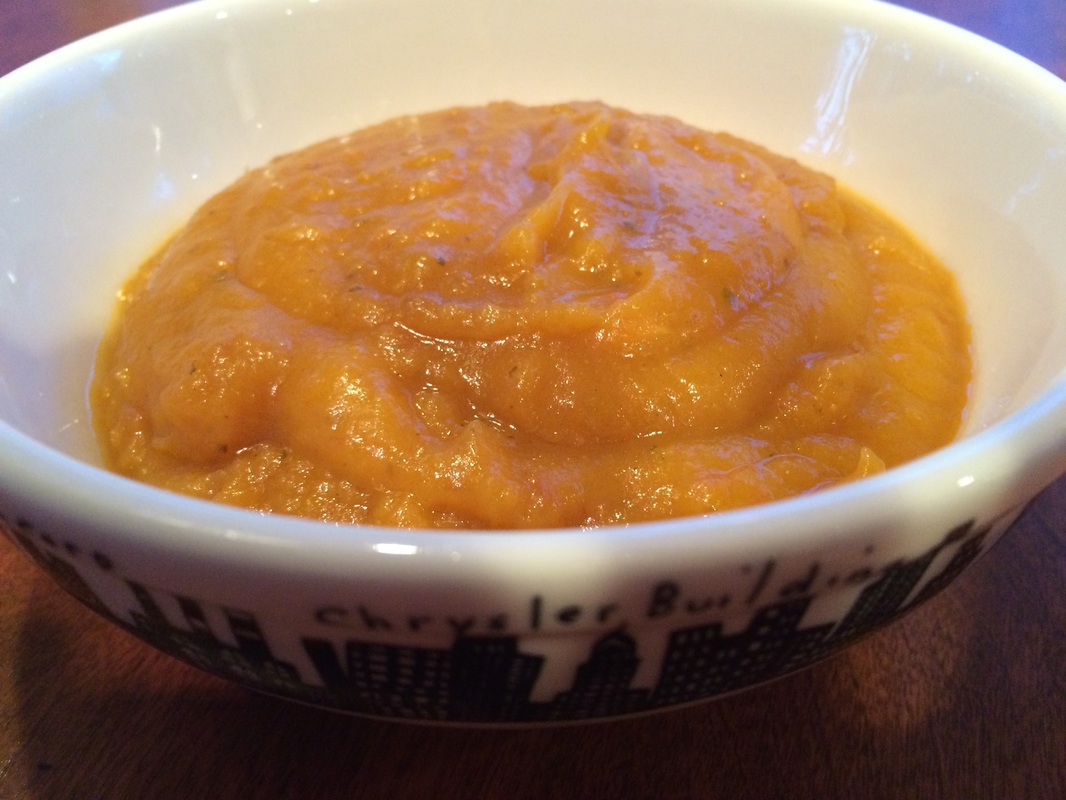 Slow Cooker Sweet Potato Soup – Your Way
makes at least 3 quarts
3 pounds sweet potatoes with the skin on, chopped in 1-inch cubes
1 cup butternut squash, chopped in 1-inch cubes
1 small yellow onion, roughly chopped
2 cloves of garlic, smashed
1 tablespoon fresh grated ginger
1 teaspoon Chinese five-spice powder
6 cups of vegetable stock
Combine all ingredients in your slow cooker and cook on low setting for 8 hours.  Puree with immersion blender right in the slow cooker pot.  Serve as is or make it your way!
Playing Around:
You could replace the Chinese five-spice blend with another flavor – maybe cinnamon or chili powder – some people even like taco seasoning with sweet potatoes.
Try chicken stock instead of vegetable stock – especially if you've roasted a whole chicken in your crock-pot and made the wonderful overnight stock!
Try adding carrots or apples, or both, in addition to, or in place of, the butternut squash.  Really, any root vegetable would work well here.
Try adding some orange zest at the beginning of the cook time, and then add more zest and the juice of your zested orange to the finished soup.  A big drop of maple syrup would be so good with this variation.
Try adding coconut milk or perhaps some more freshly grated ginger when you are ready to puree the soup.
Try it with 2 tablespoons of melted butter and up to 1/2 cup of fresh heavy cream added before you serve.  A dollop of creme fraiche, Greek yogurt, or sour cream might be popular for this palate, too.
Try adding a can of rinsed white beans before you puree the soup.  If you want to add the beans for additional protein, you may also want to add more broth (or water) to thin the soup.
Try adding chunks of from tofu before you puree it.  This is actually a popular healthy "hack" for soup recipes that call for cream; because the tofu is tasteless, adding it to a blended soup will thicken the vegetable base and yield a smooth consistency while also making the soup more filling.  I've done this successfully with butternut squash soup and tomato soup.
You might even enjoy crumbled bacon over the top.