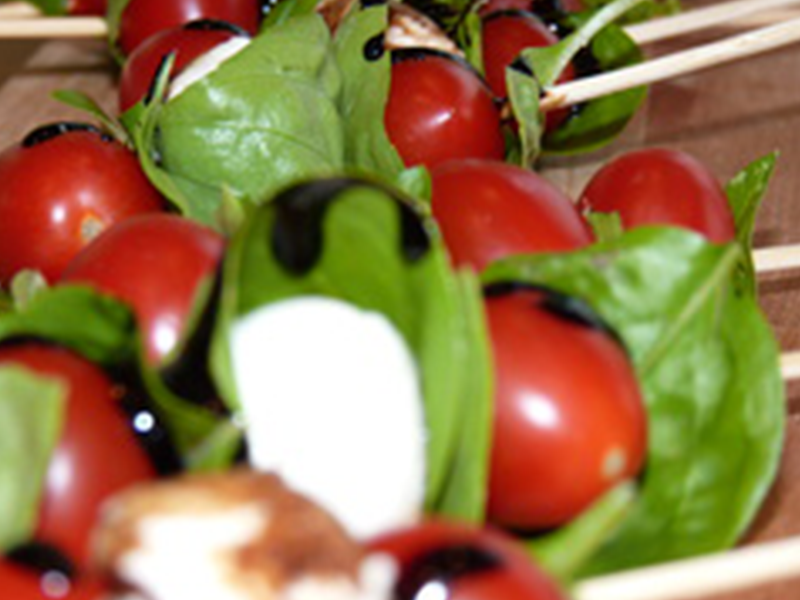 Caprese Bites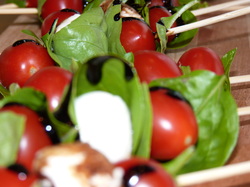 I'm so glad we got to catch up with friends at Alicia & Craig's house for a little pre-party before the Lake Street Dive concert at Koka Booth Amphitheater this weekend.  We had a picnic supper in the park, but the best tastes of the evening were Alicia's caprese bites, which I loved so much I made them yesterday.  I can't wait to have these again in a couple weeks when the tomatoes in my own backyard will be ready to pick!
Caprese Salad on a Stick
1 pint cherry or grape tomatoes
1/2 pound mozzarella bites (I used ciliegine, the smallest size available in my area)
1 bunch fresh basil
1/2 cup balsamic vinegar, reduced to yield 4 tablespoons balsamic glaze*
Wrap tomato and mozzarella in basil leaves and thread each wrapped bite onto a small skewer or long toothpick.  Drizzle with a little balsamic glaze.  A wonderful taste of summer – – these will fly off the plate!
*To make the balsamic glaze, bring balsamic vinegar to a boil and allow it to simmer over low heat for 5-6  minutes, until it has the consistency of maple syrup.  Allow to cool before drizzling over tomatoes and mozzarella.