March 11, 2017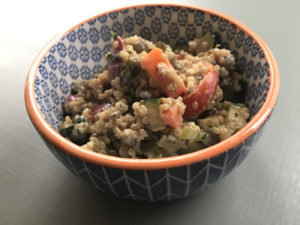 Lentil Quinoa Salad with Tahini Dressing
¾ cups French lentils
1 cup quinoa, rinsed in a fine-mesh colander
2 cups water or vegetable broth
¼ cup olive oil
3 to 4 tablespoons lemon juice, to taste (from about 2 lemons)
2 tablespoons tahini
1 large clove garlic, pressed or minced
½ teaspoon fine sea salt
Freshly ground black pepper, to taste
1 cup chopped fresh flat-leaf parsley
1 pint grape tomatoes, halved
2 carrots, peeled and finely chopped
1 bunch radishes, scrubbed and quartered
1 small zucchini, finely chopped
1 tablespoon chopped chives
 Rinse the lentils and place in a medium saucepan.  Cover with an inch or two of water and add a big pinch of salt.  Bring to a boil and keep at a low boil for 20-22 minutes until cooked through.  Drain and rinse, and set aside.  
 Meanwhile, combine the rinsed quinoa and the water or broth in a medium saucepan. Bring to a boil over medium-high heat, then cover and decrease the heat to maintain a gentle simmer. Cook until the quinoa has absorbed all of the liquid, about 15 minutes.  Remove from heat, insert a clean towel or paper towel under the lid, and let the quinoa rest for 5 minutes, which gives it time to fluff up without any condensation falling back in to the pan.
In a small bowl, combine the olive oil, 3 tablespoons lemon juice, tahini, garlic, salt and several twists of freshly ground pepper. Taste, and add up to 1 more tablespoon of lemon juice and/or more pepper, if desired.  
Place the quinoa in a large bowl. Add the lentils, parsley, tomatoes, carrots, radishes, zucchini and chives.  Drizzle the dressing over the salad, and toss to combine. Serve immediately, or let it cool and refrigerate for later. This salad is a great make-it-ahead dish for work week lunches or a fun picnic.  
March 10, 2017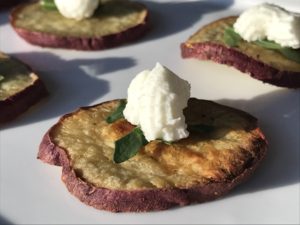 Think Outside the Box … of Crackers
Sweet Potato Toast 
Here's a great healthy food swap that's oh so versatile.  Use a round of toasted sweet potato in place of a cracker or bread for an hors d'oeuvres or even breakfast.  It's Whole 30 compliant, and it's a neutral start you can adapt for lots of different palates.  Make it savory or sweet… the possibilities are pretty much endless! 
Preheat the oven to 450 degrees or use a toaster on the highest setting if you are preparing one or two large slices.  Scrub the sweet potatoes and leave their skin on.  Any variety of sweet potato will work.  Slice them evenly to ¼" thickness.  I slice them crosswise if I'm preparing an hors d'oeuvres, as pictured here, and lengthwise if I'm using them for a larger gluten-free toast.  Lay them flat on a baking sheet lined with parchment paper or place them directly on the racks of your toaster.  Bake them for up to 20 minutes, flipping over about halfway through cooking, until the slices are beginning to brown.  
For a light savory hors d'oeuvres with a distinctive taste, I paired Japanese sweet potato toasts with a bit of arugula and some Goat Lady Dairy Smoky Mountain chevre.  
Try it any other way you can think of or check out the nearly 7,000 posts at #sweetpotatotoast.
PLAYING AROUND: 
Toasted Sweet Potato topped with sweet or savory flavors
Almond butter, banana slices, chia seeds, and a sprinkle of cinnamon

Kite Hill non-dairy cream cheese and fresh blueberries

Good ole' PB&J

Avocado and freshly ground black pepper

Cream cheese, smoked salmon, tomato, and chives

Goat Lady Dairy goat cheese and arugula or rosemary

Bacon, egg, and avocado

Beet Hummus and chives